It's hard to believe that 20 years ago this week, back in 1991, Alan Jackson's smash hit "Don't Rock The Jukebox" was sitting at the top of the Billboard charts.  It held the top spot for 3 weeks before getting knocked off by Ricky Van Shelton's "I'm A Simple Man."
"Don't Rock The Jukebox" was the lead single from Alan's second album, also titled Don't Rock The Jukebox, released on May 14, 1991.  By the end of 1991 the album had achieved both Gold and Platinum status.  Then, at the 1992 ACM Awards, Alan along with co-producers Keith Stegall and Scott Hendricks, were double winners as "Don't Rock The Jukebox" collected both the Single Record and Album of the Year awards.  By 1995 the album had sold over 4 million copies, reaching quadruple Platinum status.  "Don't Rock The Jukebox" has definitely secured its place on the list of the greatest country songs of all time!
The video for "Don't Rock The Jukebox" opens in black and white with Alan kicked back on a couch telling the tale of how the song came to be.  The story takes a quick turn when suddenly the storyline comes to life, in full color, when Alan bursts into song, guitar in hand on a mock honkytonk set.  Early in the video actor Hal Smith, who most famously played "Otis" on The Andy Griffith Show, makes a cameo as "Otis," of course. Throughout the video you see a silhouette of George Jones parked at a table next to the jukebox.  By the end of the video you find out that it really is George Jones as he emerges from the shadows.  A classic video for a timeless song!
Jump in the GAC Time Machine and take a trip back to 1991 for Alan Jackson's "Don't Rock The Jukebox":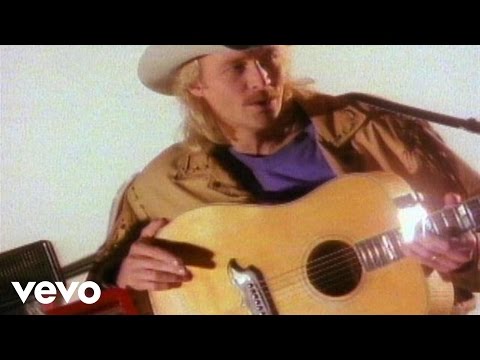 GAC wants you to help us pick the Top 50 Videos of the 90s!
Vote daily through July 25, 2011 then tune in to see how the voting turns out when we air premiere the countdown starting on August 15 at 8/7c!  Vote Now »