Moments before Sugarland was scheduled to take the stage at the Indiana State Fair on August 13, a deadly storm with wind gusts of 60-70 mph rolled in, causing the main stage to collapse.  Seven people were killed and dozens more were injured.
This raw video clip posted by a concert-goer on YouTube shows the stage collapsing as the storm hit. (WARNING – this video contains disturbing images):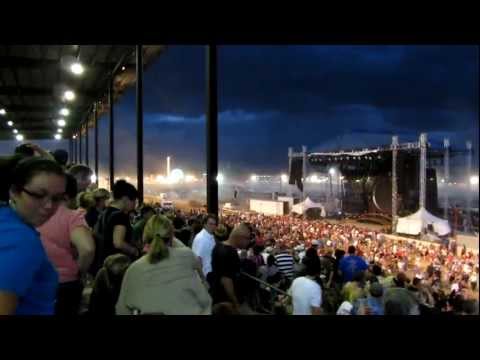 Indianapolis Star music reporter David Lindquist was in the fifth row of the Grandstand when the storm hit. According to him, opening act Sara Bareilles finished her set by commenting what a beautiful night it was. Less than 30 minutes later the stage was on the ground. "The gust of wind came, there was no rain yet and the production fell from left to right," he said. "And you could see, you could clearly see people were under the footprint of the rigging."
Pollstar reported that a last-second decision by Sugarland's tour manager, Hellen Rollens, likely saved the lives of Sugarland and their band. She made the decision to hold everyone backstage just minutes before they were scheduled to go on and moments later, the stage collapsed. As the stage fell, Sugarland and their crew hit the ground and took cover against a wall, thinking the structure was going to collapse on top of them. ­­
View photos of the stage collapse »
Sugarland released an emotional letter to their fans, friends and family following the tragedy. Read it HERE. The duo returned to the stage for the first time on August 19 in Albuquerque, NM. At the beginning of the show, Jennifer Nettles and Kristian Bush, along with their entire band and crew, took the stage and asked the crowd to join them in a moment of silence honoring all the victims and their families.  Jennifer and Kristian went on to play a stirring acoustic version of "Love."
Watch the performance:
Sugarland returned to Indiana on October 28 for a free concert at Indianapolis' Conesco Fieldhouse. The concert was a celebration of healing, life and music as well as a tribute to the victims. They returned to the Indiana State Fairgrounds before the show and shared with the audience, which included some of those who were injured at the fair, that they were in for an emotional night.
"Obviously we are here in October — we were supposed to do this show in August," Jennifer said at the beginning of the show, according to the News-Sun. "Obviously, the stage is different, you are different and we are different. We are all changed by what happened then. But we are going to try to give you the best show that we can and to celebrate healing with you and to celebrate life and music with you here tonight."
While the concert was free, Sugarland asked fans to donate to a victim relief fund that has already raised nearly $1 million.