Keith Urban celebrated "Long Hot Summer," his 13 No. 1 single, with a summer-themed party in Nashville on Wednesday. Attendees were asked to wear their best summer clothes and were treated to a special performance by Keith and his co-writer on the song, Richard Marx. Keith also invited two YouTube fans, Patrick Woolam and Leslie Strong, after he saw their performances of "Long Hot Summer" on YouTube.
"I started playing guitar when I was about 14 years old," Leslie said. "Music is everything for me – my release, my comfort, my communication. The thing I like the most about Keith is, of course, his guitar playing. I've never heard anyone else in country music that plays the way he does."
"I've been a musician for fourteen years and Keith has been a huge influence of mine, not only as a guitarist but as a vocalist," Patrick said. "I have followed the videos on KeithUrban.net for quite a while and you can see through many of those videos what a genuinely great guy he is. He truly loves and cares about his fans."
See the No. 1 party performance!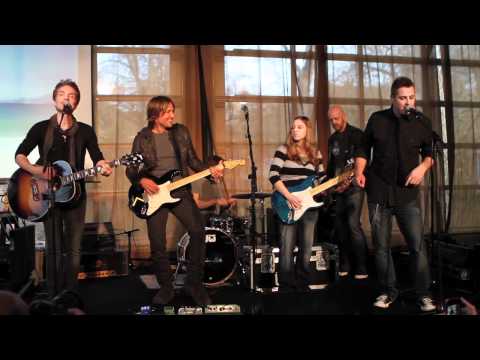 "Long Hot Summer" wasn't just another song for Keith and Richard. It was also about healing their relationship. "We had an 'issue' with each other and I learned a lot about the importance of friendship,"  Keith said. "[The song] wasn't born of a quota to write a song. It was born of a want for us to reconnect, and the song was a by-product of that desire."
You can see a couple of photos from Keith's No. 1 party HERE. Keith recently released his fourth single from his Get Closer album, "You Gonna Fly." Watch the "You Gonna Fly" video >>