Carter's Chord's new video, "Love A Little Bigger," premieres exclusively on VEVO on April 16 and the trio of sisters hope it encourages people to do just what the song's title implies. Written by member Emily Fortney, the song was inspired by a trip the group took to Guatemala where they experienced wide-spread poverty first hand.
"When we made the trip to Guatemala in 2009, we were struck by the amazing need for love that exists in this world," Emily said. "After returning home, I sat down one afternoon and wrote this song. As artists, our hope for the world is that we all learn to 'Love A Little Bigger'."
The video was shot in the Dominican Republic in conjunction with international humanitarian organization World Vision. Directed by Chris Hicky, the video was filmed in areas where World Vision is working to provide education, training and assistance to help locals build better lives.
"We chose to partner with World Vision because we really believe in what they do as a company and wanted to do something through our music that would reach people on a global level," Emily said. "Our partnership with World Vision allows us to play our music while also sharing with our fans how they can help a child in need."
Watch footage from Carter's Chord's World Vision trip!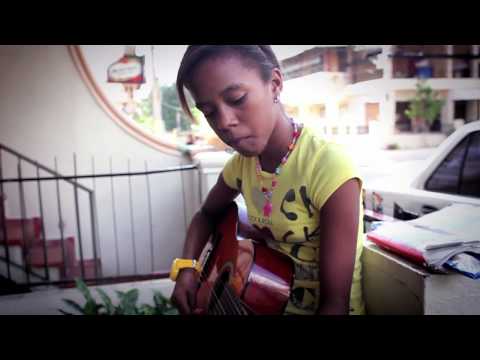 "It was really important for us to shoot a music video for this song because we wanted to show the beauty and vibrancy of these children and their communities," Becky Robertson said. "This is a song about hope, perseverance, and love."
Children who are sponsored through the program are also featured in the video. While in the Dominican Republic, the group was able to meet the child they sponsor as well as her family. The moment was caught on film and incorporated into the music video.
"We want people to feel a sense of joy when they watch this video," Joanna Ott said. "Ultimately, we would love to get as many children sponsored as possible and if this video inspires people to get involved with World Vision, then we've done our job. Hopefully people will take away a desire to look at their own lives and see what areas they could be loving a little bigger."