Taylor Swift has partnered with one of the "loves of her life," Diet Coke. She shared the news with her fans Sunday night through a YouTube video, revealing that the partnership will include access to her RED Tour, behind the scenes footage of a commercial shoot for Diet Coke and much more, all accessible through Diet Coke's Facebook page. 
"I really can't wait to begin all this," Taylor said. "I think it's going to be an extraordinary ride. I just wanted to tell you guys first because you've been so amazing. Thank you for everything."
Watch Taylor's Diet Coke announcement below: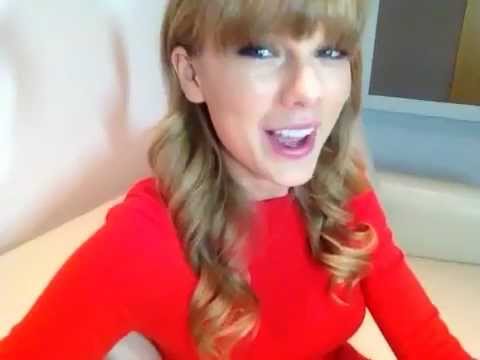 Taylor recently revealed to Bon Appetit that Diet Coke, along with eggs, thinly-sliced ham and chicken, orange juice, parmesan reggiano cheese and "binge food" like cookie dough and cinnamon rolls are foods that will always be found in her fridge. She also revealed her dressing room must haves – or used to haves.
"I have so much water in my dressing room–because I drink, like, ten bottles of water a day," she said. "That's pretty much all we have in there. I think we used to have veggie trays. Now that I think of it, I have no idea why I don't have dressing-room food anymore. Now I'm angry! I have to make a few calls…"
Taylor loves to cook and often tweets photos of what she's up to in the kitchen. When she's cooking for friends and family, she has a repertoire of dishes she turns to. "If we're in Nashville, I'll make chicken and dumplings, she told the magazine. "It's very southern, and I like a good theme. Sometimes I make my own pasta and I'll do a lemon-Parmesan sauce with pine nuts."
As savvy as Taylor is in the kitchen, she still has revelations. One of the biggest was learning how to use a new piece of equipment that some may find intimidating.
"When I figured out how to work my grill, it was quite a moment," she said. "I discovered that summer is a completely different experience when you know how to grill. I love to make burgers, grilled chicken with different marinades, garlic green beans, carrots and broccoli."