Dierks Bentley and wife Cassidy are expecting their third child, a boy, later this year. The couple are already parents to young daughters Evie, 4, and Jordan, 2 and while Dierks enjoys being a man, he also loves coming home to a house full of women.
"It's a totally different reality that I wouldn't trade for anything in the world," he said. "Just hanging with my girls and doing the things we do and seeing life through their eyes, it's incredible. It takes a man to do it. It's not a boys' game. I love the juxtaposition to be able to be that man and to also go on the road and act like I'm 13 years old and play video games all afternoon waiting for the fans to show up. So, it's really a blessing to be able to do both."
Dierks' daughter Evie made her Ryman Auditorium debut in 2012 singing "Thinking of You" with her dad (as she does on the studio version on Dierks' Home album). Check out this adorable duet from Dierks and Evie: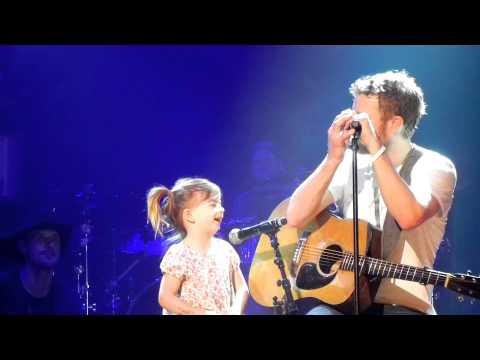 Top 20 Country Songs About Dad >>
Dierks is currently co-headlining his Locked & Reloaded Tour with Miranda Lambert. He will release his new album, Riser, this fall. The project's first single, "Bourbon In Kentucky," is at radio now.