The tribute album to country supergroup Alabama — called Alabama & Friends — is in stores today, and country duo Florida Georgia Line sings the group's 1992 No. 1, "I'm In A Hurry (And Don't Know Why)." Brian Kelley and Tyler Hubbard recently talked about why they chose that song — and why they might want to be a part of a hybrid group called "Florida Georgia Alabama Line." Watch the interview below: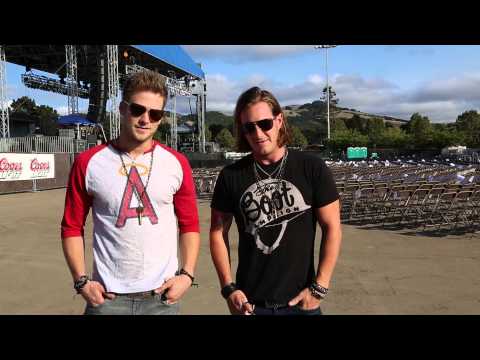 Founding members Randy Owen, Teddy Gentry and Jeff Cook will take time away from their Back to the Bowery Tour, where they have been performing to capacity crowds, to make special guest appearances on numerous television programs, as well as hosting their own Sirius XM radio program throughout August and September.
Read our review of Alabama & Friends >>
During Labor Day weekend, Alabama will take over the airwaves on Sirius XM Prime Country (Ch. 58) beginning Friday, August 30 at 6 p.m. ET and continuing through Monday, September 2. The show will feature two cuts per hour from the ALABAMA & Friends album, along with six additional hits from the group each hour.
Fans can also look for Alabama on GAC's Headline Country Thursday, August 29 at 3 p.m. ET.  Before heading back on tour for concerts in Cleveland and Detroit, the group will make a quick stop in New York for a special live performance on FOX & Friends on Wednesday, September 4 (6 to 9 a.m. ET).
ALABAMA & Friends is an 11-track collection of songs honoring the iconic band that changed the face of country music with their unprecedented and groundbreaking success. The album from Show Dog-Universal Music commemorates their career spanning 40 incredible years and features some of country's biggest stars–all contributing their own version of Alabama classics including Jason Aldean, Luke Bryan, Kenny Chesney, Eli Young Band, Florida Georgia Line, Jamey Johnson, Toby Keith, Rascal Flatts and Trisha Yearwood.
The album also includes two brand new tracks by Alabama including "That's How I Was Raised" and "All American," which is currently playing on country radio.