Jason Aldean's fans will be able to relive his concert from last April at the University of Georgia's Sanford Stadium when he releases his live concert DVD, Night Train To Georgia, on October 15. The film captures Jason's performance in front of a crowd of more than 66,000 fans during the firstever concert to be held at the stadium.
"That day in Athens will always be one of my proudest accomplishments," Jason said. "I've been working my whole career to get to this point where I can go into a stadium like Sanford, which I've idolized my whole life, and leave a mark.  I watch it back now to remember the details because it was all overwhelming and a pretty surreal moment for me."
Watch the Night Train To Georgia trailer below: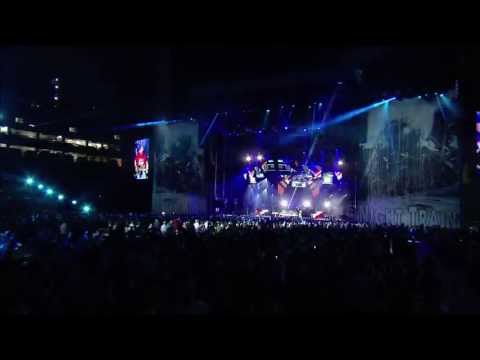 The state of the art show has an 18-song set list showcasing 10 0f Jason's No. 1 hits, including "She's Country," "Big Green Tractor," and "My Kinda Party." The film also includes a behind the scenes look from the time Jason and his team started planning the show right up until he takes the stage. A personal interview with Jason, footage from his performances at Fenway Park and Wrigley Field stadium and appearances from Kelly Clarkson, Luke Bryan and Ludacris are featured.
A pre-sale of the DVD is available on  www.JasonAldean.com. Walmart is offering the exclusive reveal of the cover art on their Twitter page.  Fans can visit  www.twitter.com/walmart and Re-Tweet to unlock the image.