Zac Brown Band cordially invites fans to be a part of the wedding of the band's Coy Bowles and his beautiful bride, Kylie, in their new music video, "Sweet Annie." The video follows the band and their family and friends throughout the gypsy fantasy land ceremony and into a fun-filled reception that wraps with a 200ft slip and slide.
Photos: Country Star Weddings >>
"There was a lot of planning that went into this wedding, and a lot of hard work on many people's efforts," Coy said. "The sun and weather could not have been more perfect. Kylie, my wife, really out did herself creatively on the vibe and look of the wedding. She had a vision of what she wanted the wedding to look like. With the help of others, including Shelly Brown who designed her dress, we were really able to pull of this relaxing, gypsy fantasy land of a wedding.
Watch Zac Brown Band's "Sweet Annie" music video below:
"Standing in front of everyone that you care about," he continued, "looking into the eyes of the one person you wanna be with and love for the rest of your life and telling them exactly how you feel about them, how much love them in front of all the people that you love is one of the most awesome and intense things I've ever done."
Besides sharing the video, Coy also listed his 'Top 10 Coolest Wedding Moments' which included dancing with his mother-in-law to "Brick House" and an Icee truck, on the band's website. Fans can also visit zacbrownband.com for a behind-the-scenes look at the making of "Sweet Annie."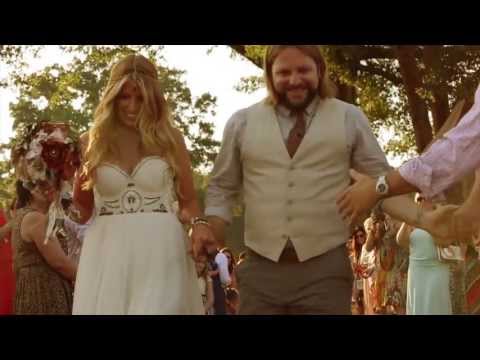 We want to see YOUR wedding photos! Share your memories from your special day in our Great American Weddings gallery. Upload your photos >>