The Swon Brothers, finalists on season four of NBC's The Voice, have signed a record deal with Arista Nashville. Zach and Colton Swon, a brother duo from Oklahoma who were a fan favorite as part of Team Blake Shelton, are currently writing and securing songs for their debut album, with their first single expected to hit radio in the spring of 2014.
"Signing with Arista is literally our dream coming true," Colton Swon said. "My brother and I have been chasing this goal for 15 years now. Being a part of The Voice was an unbelievable experience; there isn't another show like it. Our mentor and friend Blake Shelton gave us the direction and advice we needed to keep this dream alive. We feel blessed beyond measure for the chance to continue to connect with people through our music. Arista is the home we were looking for and we have a great team of people helping us on this journey!"
Watch a video of the duo signing their record deal below: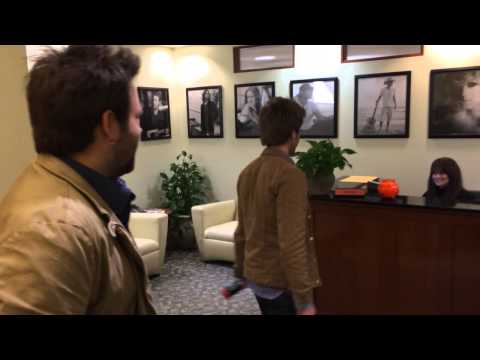 "We are so excited to get into the studio to make new music for our fans," Zach Swon said. "It's amazing and humbling for us to have so many fans supporting us now and asking us when we are going to have a record out. We are looking forward to our new relationship with Sony and making some history together."
The Swon Brothers have been performing since they were old enough to talk. When they were 9 and 11 year olds, they asked their parents to "drop by" Nashville as they traveled to a family vacation in Florida so they could "get a record deal." The young boys went into every label on Music Row to play for anyone would listen and continued making trips to Nashville to work on their music.
They were recently honored with the Rising Star award by the Oklahoma Music Hall of Fame and have been busy since their time on The Voice wrapped. They played the halftime show at a recent Arizona Cardinals/Detroit Lions game, sang at the 2013 Warrior Open golf tournament in Dallas for an audience that included former President George W. Bush and received a private tour of the U.S. Capital from Rep. Markwayne Mullin from their home state before their performance at the Susan G. Komen Honoring The Promise Benefit Concert.
For more on The Swon Brothers, visit www.swonbrothers.com.