Aaron Watson has released his new video for "July In Cheyenne," a song paying tribute to Lane Frost, a professional bull rider who realized a lifelong dream in 1987 when he became the PRCA World Champion Bull Rider at the age of 24.  Frost died in the arena at the 1989 Cheyenne Frontier Days Rodeo from injuries sustained from his ride.
The video features Aaron on a stool with his guitar in the middle of an arena while screens showing clips of Lane's life and career play around him. Three sources close to Lane contributed photos and footage, including PRCA, Sue Rosoff, who was the publicist and official photographer for Red Rock and Challenge of Champions, and David Wittkower, who put together the documentary The Challenger of Champions – The Story of Lane Frost and Red Rock.
The music video also contains an actual home video of a young Lane as he rode sheep in preparation for bull riding. Behind the scenes photos of Lane with his close friends George Michael, Tuff Hedeman, Cody Lambert and John Growney are also included.
Watch the video below: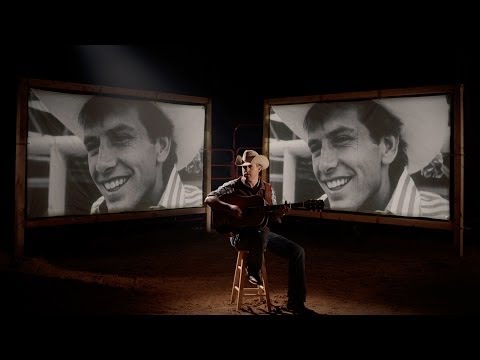 Rodeo fans can catch all the action of the Wrangler National Finals Rodeo live, right here on Great American Country, at 10/9c through the final round on December 14. For photos, highlights and more, visit our Wrangler National Finals Rodeo section!
Check out more videos that pay homage to the cowboy way of life in our Top 20 Cowboy & Cowgirl Songs »