Emi Sunshine isn't your average 10-year-old.
She is not only a singing sensation, she's an old soul. As she sips her decaf iced mocha latte and politely leaves her bedazzled iPhone sitting on the table, it's difficult to picture her playing in a sandbox or having a pillow fight. Her demeanor is cool and collected, not to mention mature beyond her years.
While other kids her age are getting ready for their first day of school, Emi is preparing for her Grand Ole Opry debut, slated for August 5.
The Madisonville, Tenn. native grew up listening to classic Bluegrass and country singers. Emi defines her music as "Americana Gospel," taking influences from Ricky Skaggs, Amy Grant, Emmylou Harris and Buddy Miller.
Her mom, Alisha Hamilton, introduced Emi to music at a mere four years old. They wrote simple songs together, then advanced to songs she could play on her ukelele or mandolin. Eventually, her dad, Randall Hamilton, and brother, Johnathon Letner, helped out teaching her chords and leads, respectively.
Besides her impressive vocals and "sunny" personality, Emi rocks a unique style all her own. She buys almost all of her clothes at thrift stores or flea markets and owns more cowboy boots than she can count. Vintage hats are wardrobe staples, as are bandanas and jeweled headbands. She shared photos of some of her favorite outfits with us.

Still three years away from teenage-dom, Emi has already performed at the Ryman, appeared on the TODAY show and garnered over a million views on YouTube with her cover of "Folsom Prison Blues."
Watch Emi perform on the TODAY show: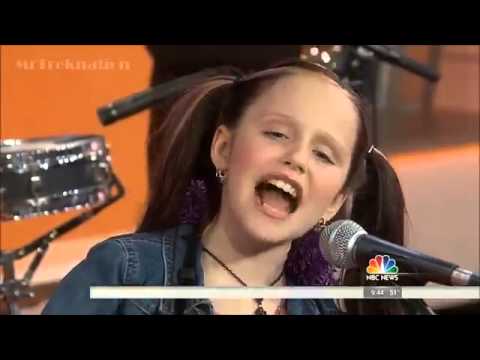 "I didn't know what to say," she says of her first viral hit, a cover of  Jimmie Rogers' "Blue Yodel #6." "When [the frenzy] died down I thought,' That was good. That was a lot of fans we gained.'"
Indeed, she gained a lot of fans — loyal fans, that is. Her newest song, "Sweet Lucy," already has 3,556 shares on Facebook. Emi enjoys the fame for a different reason than most young music stars, however. For her, it's not about money or clothes. She just loves to play music. "I do want people to know me, and know who I am, and make a lot of people happy," the singer said.
When discussing the Ryman, Emi reminds her road manager of a certain someone who stole her piece of pizza before the show. Confused, her road manager surrenders to Emi's knowing stare as the pint-sized singer reveals the culprit: "Marty Stuart!"
Emi said playing on the Opry stage is a dream come true. "I thought it'd be a long time before I played [at the Opry.] That would've been my biggest goal. Now I don't know what I'm gonna do," she said, grinning.
For more information about performance dates, follow Emi Sunshine on her Facebook page.